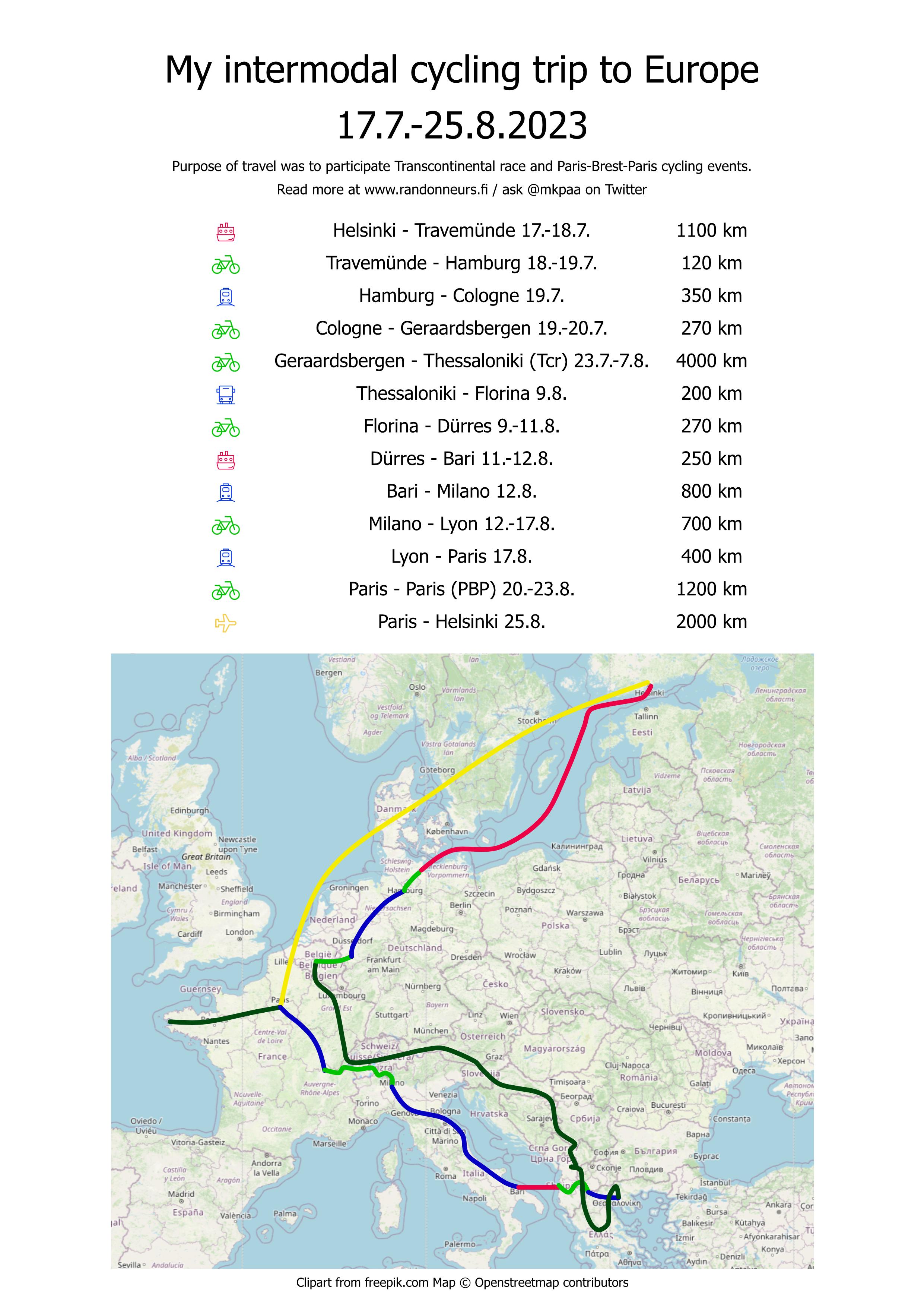 I was participating the Transcontinental race and Paris-Brest-Paris 1200 km brevet this summer. This post is about logistics and travel to, between and after the events and not about the events itself. You can find my similar posts from 2015 and 2018.
Planning the exact schedule and logistics took a while. Main handicaps being that I've already for past 15 years flown only once per year, one takeoff one landing, and the Transcontinental race's new green leaderboard that was for participants who would travel to start and from finish without flying. I had to confirm beforehands that the green leaderboard travel is not to home, but to whatever next errand I might have. Which in this case happened to be Paris-Brest-Paris.
Past two times the Paris-Brest-Paris (now 19.-24.8.) has started just a week after the Transcontinental (now 23.7.-7.8.) ends and hence there hasn't been too many options for the travel, but now there was 11 days in between. I'd gone through many options, such as spending a week in Istanbul and flying to Paris and so on. In the end the route was guided by social and touristic reasons. Mainly a day at Struga, visiting Madonna del Ghisallo, day at Chamonix to see Mont Blanc and visiting a friend in Geneve. And also moving myself and the bike from Thessaloniki to Paris in time.
Between the events there would be several places to take a shortcut and also several places to make detours, time and legs so allowing.
From Helsinki to Geraardsbergen
The most practical connection nowadays from Helsinki to central Europe is ferry from Helsinki to Travemünde in Germany. It is a chill ferry with good food, sauna and gym. So the 28 or so hours is mostly eating, sleeping and a couple of times at gym and sauna. I had hoped we would get a full cabin of Tcr participants from Finland (4 out of 7) to the ferry, but it was just me and Walto.
Once we arrived on Tuesday evening to Travemünde we first rode to Hamburg for a late night/early morning food at a friend's place who also guided us to the Hamburg-Harburg train station as intercity trains were not leaving from their usual stations due to some construction work. We had bought tickets to the morning train to Cologne earlier and bikes fit there without any issues.
After a short ride the next stop was Liege where we staid at local hostel over night and in the Thursday morning rode the last 160 km to Geraardsbergen. I can't imagine the ride to the start at Geraardsbergen could've been any more as I expected. We were on schedule and had a easy around 400 km ride over around 44 hours.
The Transcontinental itself is another story so I will now skip to travel
From Thessaloniki to Paris
I had sent a bag drop from Finland to my hotel, a hipbag with another piece of underwear, a soft bicycle bag and nail clippers. I knew I'd need the bag for the train from Bari to Milan and that I'd also likely use the bag during the flight from Paris.
After 2 days of resting and eating at Thessaloniki it was time get a ride to Florina. I had expected to take one of three daily trains, but turned out many train lines had been replaced by buses and so there was only one daily bus. I was first worried if the bicycle would fit in the bus, but the station staff ensured that the bus is never full. As the bus replaced a train, it meant it would also travel to each train station along the route. Hence it was a 4 hour ride for a 170 km direct distance.
While in the bus I booked a hotel at Struga, North Macedonia. It was a bit poor quality, but had a (almost) 24 hour reception and was easy to reach. I arrived in Florina around 23 o'clock on Wednesday and about 110 km and 5 hours later I was in my hotel.
I had wanted to spend a day at Struga since passing it in Transcontinental 2013 and now there happened to be a good chance to finally do it. It is a nice relaxed beach resort town by the lake Ohrid. Familiar to most of Transcontinental race 2018 and 2023 finishers.
On Friday morning it was time to head to Dürres, Albania. I had booked a ferry that left at midnight and heading to Bari, Italy. Again the bike ride from Struga to Dürres hardly could've been more as I expected. 150 km downhill into the opposing direction that I'd ridden in Transcontinental 2013. Then I'd taken a ferry from Bari to Dürres.
I only had a place on the deck and so I was waiting for the ferry to start moving to get a free cabin. Quite amazingly the reception didn't accept a card payment and hence I ended up bivying on the deck until we arrived in Bari. Slept very well though.
At Bari I lazily rode to the train station to pack my bike. The train staff took forever to figure out where to put my bike as if they'd never been transporting a bike before. After few hours I moved my bike to a 1st class car where there would be free space for the rest of the trip to Milano.
I had booked my hotel at Magreglio, next to Madonna del Ghisallo, a few months earlier. So at least I was very much in my planned schedule. I had passed Ghisallo in 2010 when I'd been on my first long ride across Europe. But it wasn't until several years later that I found out about the place.
It is a chapel dedicated to cyclists and among other details has a eternal fire burning for memory of dead cyclists.
I visited the chapel and the nearby museum of cycling early on Sunday and started a long approach to Chamonix. Again this part is mostly just cycling and business as usual. Sunday involved lake crossing at Como and Maggiore. Once it got dark I started the 35 km climb up the Simplon pass. It is often busy at day time, but at night it was a very nice ride. I also missed most of the rain. I had initially planned to ride to Zermatt to see Matterhorn in the morning, but forecast predicted cloudy until noon so I just continued towards Chamonix. In the morning I had a short nap along Rhone.
Finally in the afternoon I arrived in Chamonix. Got into my hostel and ate as much as I could and went to bed for next 12 or so hours. I had booked a early morning ticket to Aguille du Midi to see Mont Blanc.
I almost saw Mont Blanc, but the very top remained in the clouds and after the clouds got denser around 10 o'clock I decided to head back down to Chamonix.
Again next step of the ride was fixed by pre bought train ticket from Lyon to Paris on Thursday morning. I left Chamonix around noon on Wednesday and headed to Geneve. I had dinner there with a Finnish friend whose been working there for the past year. After some mandatory tourism at United Nations office and CERN I rode overnight to Lyon.
I don't know if I found some especially poor route to Lyon, but entire city seemed like a very desolate place. Anyways, the train left at 10 am and was in Paris 2 hours later. First time I've been travelling with a TGV.
Travels around Paris are not very interesting so I'll just skip that and Paris-Brest-Paris and head to travel
From Paris to Helsinki
I had a early Friday morning flight from De Gaulle to Helsinki. I had finished PBP on Wednesday and after resting I spent most of the time meeting other participants around the town. Paris-Brest-Paris finish at Rambouillet is about an hour train trip from downtown Paris.
I initially thought I had too much stuff for the flight and I'll either have to send some home by mail or ask someone traveling by car to bring it home, but after packing I thought I can after all carry everything. By the time I had 2 hipbags, another one I'd left at Geraardsbergen and picked up from another PBP participant who brought it to me to Paris. The other I'd been carrying since Thessaloniki. Also I had a packable backpack full of stuff. I was really in a camel mode.
Next step would be to make it in time (or 20 minutes late) to Victor cycles to pick up a cardboard box for the bike. Unfortunately bikes don't fit into Paris metro so I had to do a 6 km hike with the box to Gare du Nord to catch a train to De Gaulle airport. I was there around midnight.
Somehow my recollection of airports was that they are alive 24/7, but there are graveyards more alive than De Gaulle between 0 and 6 am. First few hours I was just sitting around and waiting. Then I went outdoors to pack my bicycle to the cardboard box. Then another few hours waiting for check in to open. Mostly drinking energy drinks to stay awake. Finally queuing 45 minutes with 2 other people for the staff to actually open the check in after showing up at the desk. Then even after security check half of the services were still closed or just opening.
I was happy to get out of there on schedule. Somehow my expectation was that there might be a lounge or two or at least restaurants open, but only one who wanted my money there was a vending machine. Otherwise the flight itself of ridiculously cheap. 100 euros for the flight and another 60 for the bicycle was roughly 1/3 the price of traveling by land options. Also I had already been on the road for five and a half weeks so I didn't mind getting home fast.
The bike got home safe. I put it together at the airport and rode the final 15 km home.
Epilogue
I think the green leaderboard in the Transcontinental race is a welcome addition. Whereas the Transcontinental race can be viewed as a cycling school for everyone. You learn the most of how to ride alone, without friends and support, across Europe by participating yourself. But you can also learn a lot by following the race online as long as you get enough raw content from the participants. You can learn from their mistakes without making your own.
As most of us don't often need to climb up Albanian or Greek gravel mountains in our daily lives, the #lowcarbontcr will hopefully gain more traction in future editions. Now there was a few posts by me on Twitter and around 30 by others in Instagram. Done right the hashtag could be used to educate those who simply don't know what it is like to travel with a bike by train, bus or ferry around the continent. Make it another cycling school for those who wish to travel intermodally by bike.