Ruska-pyöräily alkaa Liepājasta perjantaina 15.9. kello 19:58 auringon laskiessa. Ruskan noin 2000 km reitti kiertää Suomen sotien ja rauhojen kannalta keskisiä paikkoja. Lähtö on jääkärien valakirkolta ja maali Kilpisjärven Muotkatakassa, josta ammuttin Lapin sodan viimeiset tykinlaukaukset. Kontrollipisteet reitin varrella ovat Tarto, Vaasa ja Tornio.
Osallistujien tavoitteena on pyöräillä suunnittelemansa reitti ilman ulkopuolista apua korkeintaan 8 päivässä, 4 tunnissa ja 2 minuutissa. Itse järjestetty huolto tapahtuman aikana on kielletty eli osallistujat saavat käyttää vain kaikille saatavilla olevia palveluja kuten kauppoja ja hotelleja. Osallistujien kannustaminen on sallittua, mutta auttaminen, myös netissä, on kielletty.
Ruska starts on Friday 15.9. at 19:58 o'clock at sunset from Liepāja. Ruska's approximately 2000 km route visits significant locations of Finland's wars and peaces. Start is from Holy Trinity church in Liepāja where the first Finnish oath of enlistment was sworn and finish is Muotkatakka at Kilpisjärvi from where the last artillery bombardment of Lapland war was fired.
Participants have 8 days, 4 hours and 10 minutes to ride their self made route. Private resupply is forbidden so participants can only use equally available services such as shops and restaurants. You may cheer on the participants, but helping them, even online, is forbidden.
Ajajat kartalla / See participants on a map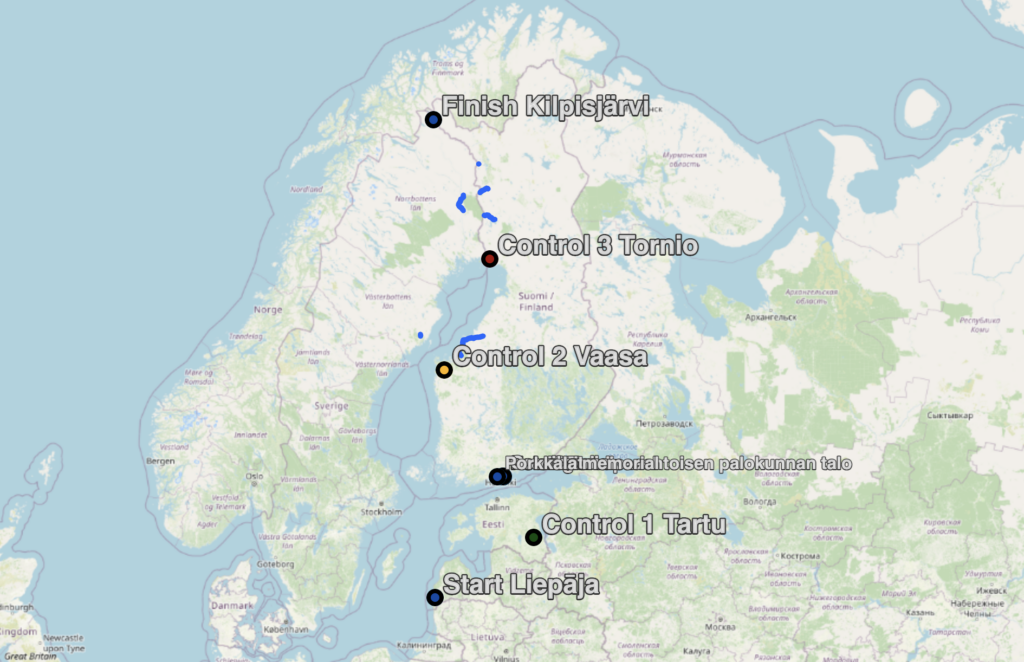 Kontrollin 2 ja 3 välillä osallistujien pitää ajaa parkoureista (siniset viivat) jompi kumpi. Kontrollin 3 ja maalin välillä osallistujien pitää ajaa viidestä vaihtoehdosta täsmälleen yksi kulkematta muiden kautta.
Between controls 2 and 3 participants must ride one of two parkours (blue lines). Between 3rd control and finish participants must ride exactly one of the five options without crossing the others.
#ruska2023 Twitter Mastodon Instagram